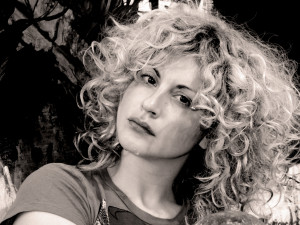 Jelena Đurić, was born on Septembre 7th 1978 in Niš.
Graduated from the Academy of Arts in Novi Sad and
finished Master degree in the class of professor Milan Blanuša.
Participated in many exhibitions in Serbia and abroad.
Received several Art awards.
Many of her artworks are in the private collections,
in the collection of the Gallery Matica srpska, Philip Morris Foundation…
Lives and works in Novi Sad.
Member of ULUV and ULUS.
INDIVIDUAL EXHIBITIONS
2021 Kvart Belgrade Waterfront, Gallery "Štab", Belgrade
2021 Gallery "Beograd", Belgrade
2020 "U dijalogu sa Mikom Antićem", Days of Antić, Cultural center, Novi Sad
2017 Gallery Cultural Center " Mali likovni salon ", Novi Sad
2016 Gallery " Fabrika ", KCNS, Novi Sad
2016 Gallery " Progres ", Beograd
2015 Gallery of Contemporary Art, Cultural Center Pancevo
2014 Gallery " BEOGRAD " , Belgrade
2013 Gallery of ULUV, Novi Sad
2012 Gallery   " Vaedro Arte ", Madrid
2009 City Gallery " The bridges of the Balkans ", Kragujevac
2008 National Gallery , Belgrade
2006 Gallery of ULUV ( Fine Artists Association of Vojvodina ), Novi Sad
Gallery of The National Bank of Srbia, Belgrade
2005 Gallery " Art Klinika ", Novi Sad
2002 Gallery " Pavilion ", Nis
2002 Gallery of " The endowment of Ilija M. Kolarac " Gallery SKC, Belgrade
GROUP EXHIBITIONS
2021 Museum "Dom Jevrema Grujića"(with Gallery "Štab"), "The Great Women of Serbian Culture", Belgrade
2021 Gallery DLUL, Ljubljana
2020 Global Art Festival, Bruxelles, London
2019 Art Symposium "EU Art Network",  "Ich bin nicht, was ich bin…", Culture station "Svilara", Novi Sad,  Serbia
2019 Art Symposium "EU Art Network", "Ich bin nicht, was ich bin…", Oslip, Austria
2019 International Art Fair, Budapest, Hungary
2019 Gallery Big, "Rock-Paper-Scissors", Dortmund, Germany
2018 Museum of Contemporary Art, Novi Sad, "Drawn (over)
Contemporary drawing from LeRoy Neiman till today"
2018 Gallery Hollabrunn Austria, "Shere-Stein-Paper"
2017 International Art Festival " Ode to Life ", Montenegro, Podgorica
2016 Gallery MATICA SRPSKA, Novi Sad
2016 Gallery BEOGRAD, Belgrade
2014 Niš Art Foundation, Belgrade, Niš
2013 Live painting, performance, " Blue Balls Festival ", Lucerne
2013 New Serbian Abstraction , RTS Gallery, Belgrade
2013 New Serbian Abstraction, Cultural center , Paris
2012 Associazione Culturale Atelier, Novi Sad a Roma
2011 Gallery MC – Manhattan
2009 Contemporary Art in Serbia after 2000, Cultural centre, Paris
2009 Sallon des Nouvelles Realites, Paris
2008 Contemporary Art in Serbia after 2000, Nis, Belgrade, Novi Sad
2008 Art in Vojvodina today, author historical artist Sava Stepanov,
The Museum of Contemporary Art, Novi sad, Vrsac, Subotica, Sremska Mitrovica
2008 Project " Kaleidoscope " happening Madrid -Novi Sad "1989 km", Novi Sad
2007 II Bienale " In the light Milena ", Pozarevac
2006 35 th Salon of Novi Sad, Gallery of "Vojvodjanska Banka", Novi Sad, Serbia
2006 Philip Morris Gallery, Belgrade, Serbia
2006 Gallery of Contemporary Art Serbia, Nis

AWARDS
2007 " Youth palette " Award, Vrbas, Serbia
2006 2nd Purchase prize , Nis Art Foundation, Nis, Serbia
2003-2004 National Talent Fellowship, Republic of Serbia
PUBLICATIONS
WomenN's Museum, Female artists in museums, Theoretical discourse of contemporary female culture, Jelena Ognjanović